To Register for the November 16th Black Research Network Speaker Series Event, Click Here.
The Black Research Network's Speaker Series invites the greatest minds from the University of Toronto and beyond to engage in meaningful conversations and inquiries about their recent work and careers.
Topic: The Advancement of Rotating Savings and Credit Associations (ROSCAs) for Sustainable Economic Livelihoods.
Join U of T Scarborough's Caroline Shenaz Hossein and Ebun Joseph, a lecturer of University College Dublin, about the history of feminist political economies in Canada and beyond.
Africana women engage in solidarity economies through a specific form of mutual aid – formally referred to as Rotating Savings and Credit Associations (ROSCAs) – to meet their livelihood needs. These women call themselves the Banker Ladies, and the ROSCAs they run are rooted in equity, mutual aid and self-help.
This conversation will draw on empirical work that involves interviews with hundreds of Black women in five Caribbean countries, Toronto and Montreal, as well as field work in Ghana, Ethiopia and Nigeria.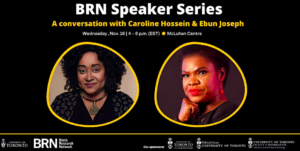 Co-sponsored by the McLuhan Centre, U of T Scarborough and the department of political science at the University of Toronto, this event will take place in-person and via live broadcast.
This event will host 20 people in-person and have a live broadcast for an online audience.
To Register for the Event, Click Here.
BRN Speaker Series: A conversation with Caroline Hossein & Ebun Joseph